Form 3+ 3D Printer
The Formlabs Form 3+ 3D printer represents a huge improvement on the old Formlabs Form 3 model and comes with a range of impressive new features.
Key Features
·       250mW high-intensity laser power with a resolution of 25 microns delivers precise control, so you can produce repeatable parts with confidence
·       Layer thickness is 25-300 microns
·       New hardware components and subsystems produce parts with smoother and improved optical clarity.
·       Change materials quickly and easily with the swappable cartridge system
·       Remote printing now available. Once set-up you can start a job and then monitor it via the cloud-based Remote Print technology software.
·       Compatible with the new Build Platform 2 which releases parts from the print surface instantly.
·       No need to ship the unit back to base when a replacement part is needed. The system is easy to maintain with replacement parts fitted on-site (if needed).
Work how you want
Use Formlabs' simple PreForm software to prepare and send your CAD file to the machine using Wi-Fi, then use the built-in, high-resolution touchscreen to manage your job queue. A re-designed air duct and thermal measurement system ensure the printer performs more consistently across different temperatures and environments. The Form Wash and Form Cure post-processing machines are available as optional extras to make the print washing process and curing of your parts easier and more automated. You can add additional Build Platforms and Resin Tanks for continuous printing, thereby reducing downtime.
More than 20 materials available
The Form 3+ now runs with an increased number of engineering resins, such as rigid, flexible, elastic and high temperature, plus a lot more. You can change between these functional resins in seconds as they simply swap out.

Flexible Resin Tank for a Superior Finish
The flexible resin tank and refined light process (LPU) combine to produce near-perfect alignment between the printed layers resulting in a production-like finish.

Adaptive Layer Technology
The Form 3+ constantly monitors print performance so you can focus on bringing your most creative ideas to life. Integrated sensors help maintain ideal print conditions and send you alerts about the state of your machine.

Grows With Your Business
Start with one or many 3D printers, and add capacity as demand grows. Use the same tool through prototyping and into production and easily expand into new applications.
Low Force Stereolithography
The Formlabs Form 3+ uses re-engineered printing technology for its best-ever print performance – all in a remarkably compact system. Known as Low Force Stereolithography (LFS), the advanced print process reduces forces for consistent printing producing the smoothest finish yet, and with fewer supports needed to complete your project. Users get fast, accurate repeatable flawless prints every time, from a unique Light Processing Unit. This uses a powerful laser combined with a parabolic mirror and spatial filter whose optical sensors continuously correct orientation to maintain ideal print conditions. Laser Lines supplies the Form 3+ as a complete package, with everything you need to get started including a resin tank, build platform, finish kit and Formlabs' excellent PreForm software – providing hassle-free materials management.
Form 3+ Workflow in Five Minutes
No specialist engineers are required to operate the Form 3+.  The high-power density laser is passed through a spatial filter to maintain a clean target. An intelligent sensor system keeps an optimal printer running and can send you alerts about the status of your printer. With improvements in layer resolution and surface detail finishing in light-based substrates, translucent materials print faster than ever on the printer. The laser prints perpendicular to the build plane while ensuring uniform print quality across the entire build platform.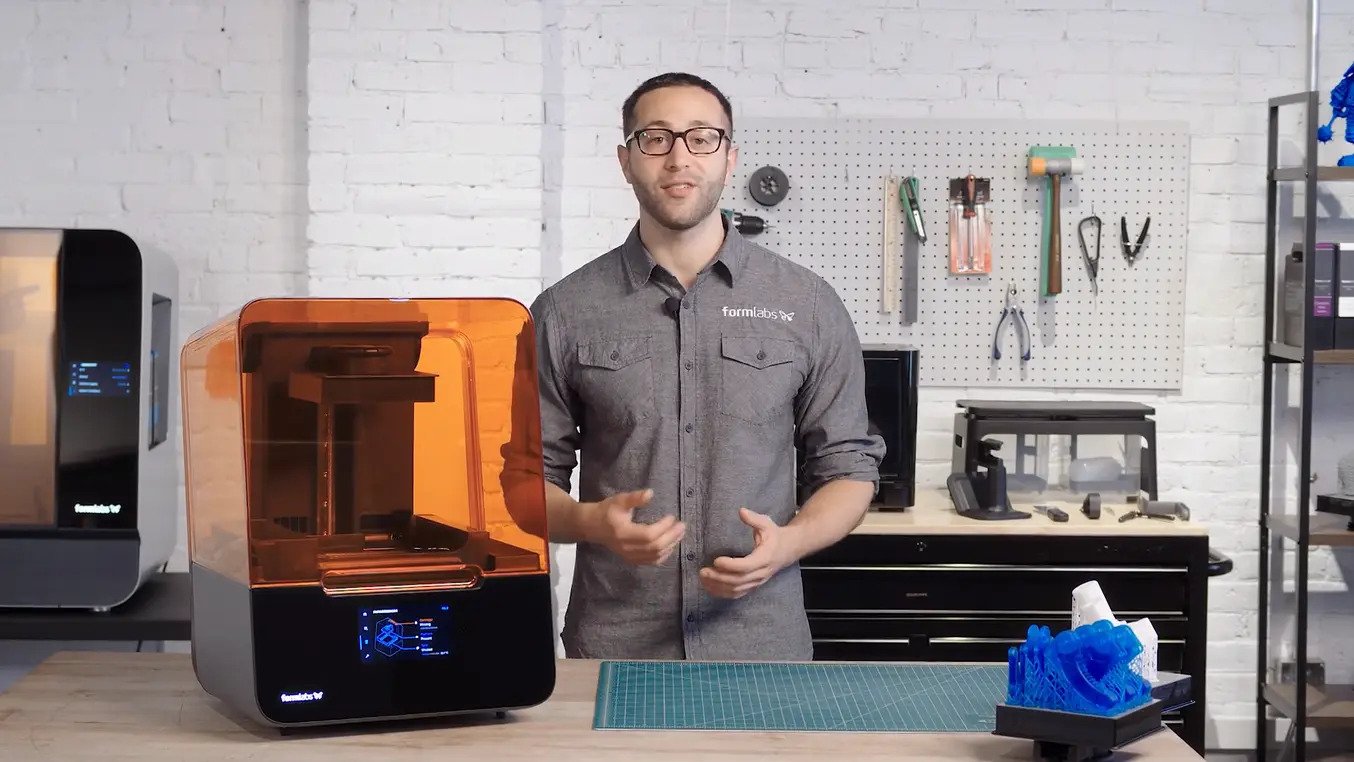 User-friendly
Formlabs 3D printers work instantly when installed, with no specialised training needed. The Form 3+ provides industrial capabilities for a fraction of the price of traditional industrial machines. The only items which are not cross-compatible are the resin tanks, purely because each liquid resin has its own dedicated tank. If you are upgrading your Form 3 you will be thrilled to know that your cartridges, build platforms, Form Wash and Form Cure will work perfectly with Form 3+.
A comprehensive 3d printing package
Each Formlabs Form 3+ Basic Package printer includes the essential tools required to start printing (resin not included) and includes:
Form 3+ 3D Printer
Form 3 Resin Tank
V2.1 Build Platform
Form 3 Finish Kit
Form 3 PreForm Software
For no mess cleaning, add a Form Wash
View Other Form 3+ Products