Formlabs dental resin
High-Accuracy 3D Printing Materials and Dental Resins for Dental Labs and Practices
Bring production in-house or improve existing workflows with industry-leading Formlabs 3D printers. Our Dental Resins empower dental labs and practices to rapidly manufacture biocompatible surgical guides, splints, fixed patterns and models, clear aligner models, and full dentures.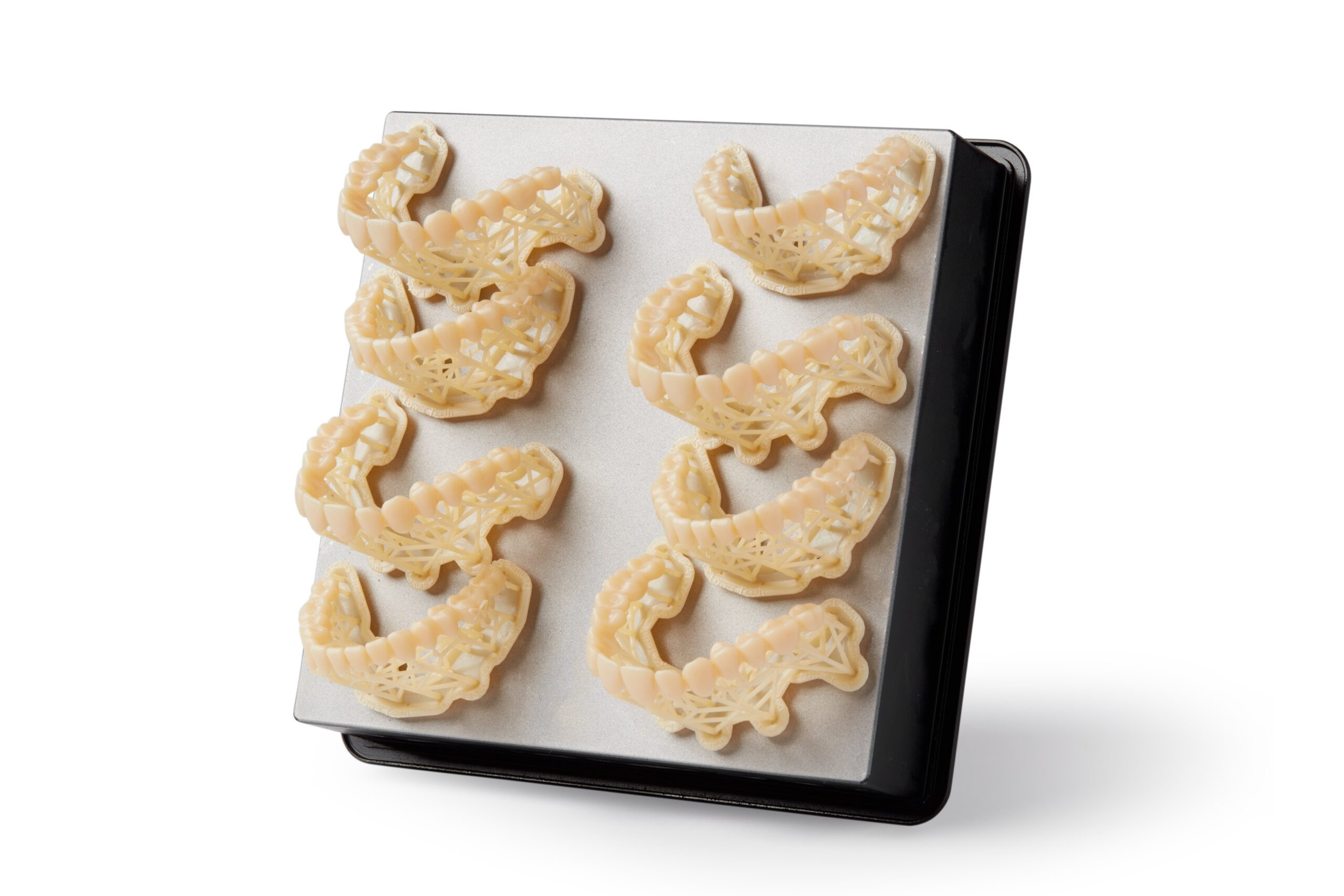 Digital Dentures
Excellent choice for dental professionals to print dental prosthetics with Class II long-term biocompability along with fast and accurate prints every time.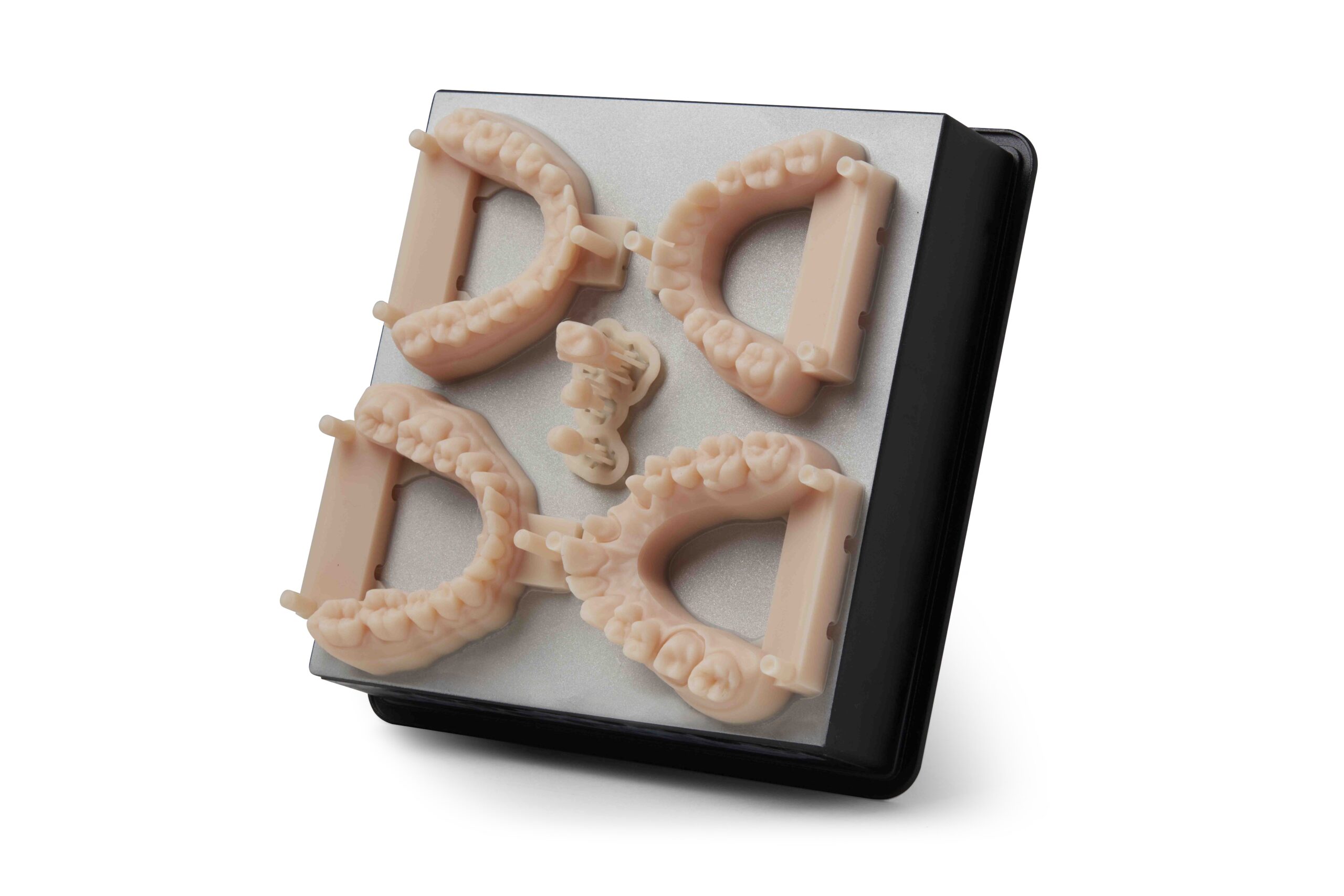 Dental Model Resin
With Dental Model Resin is a biocompatible resin that you can produce tailored dental models, including crowns and bridges, either on-site or in a small-scale contracted lab. The high-resolution dies that can be produced using Formlabs' Dental Model Resin are accurate to within +/-35 microns, making the parts derived from them suitable for day-long use, without discomfort or the risk of creating sores on the patient's cheeks, gums or tongue.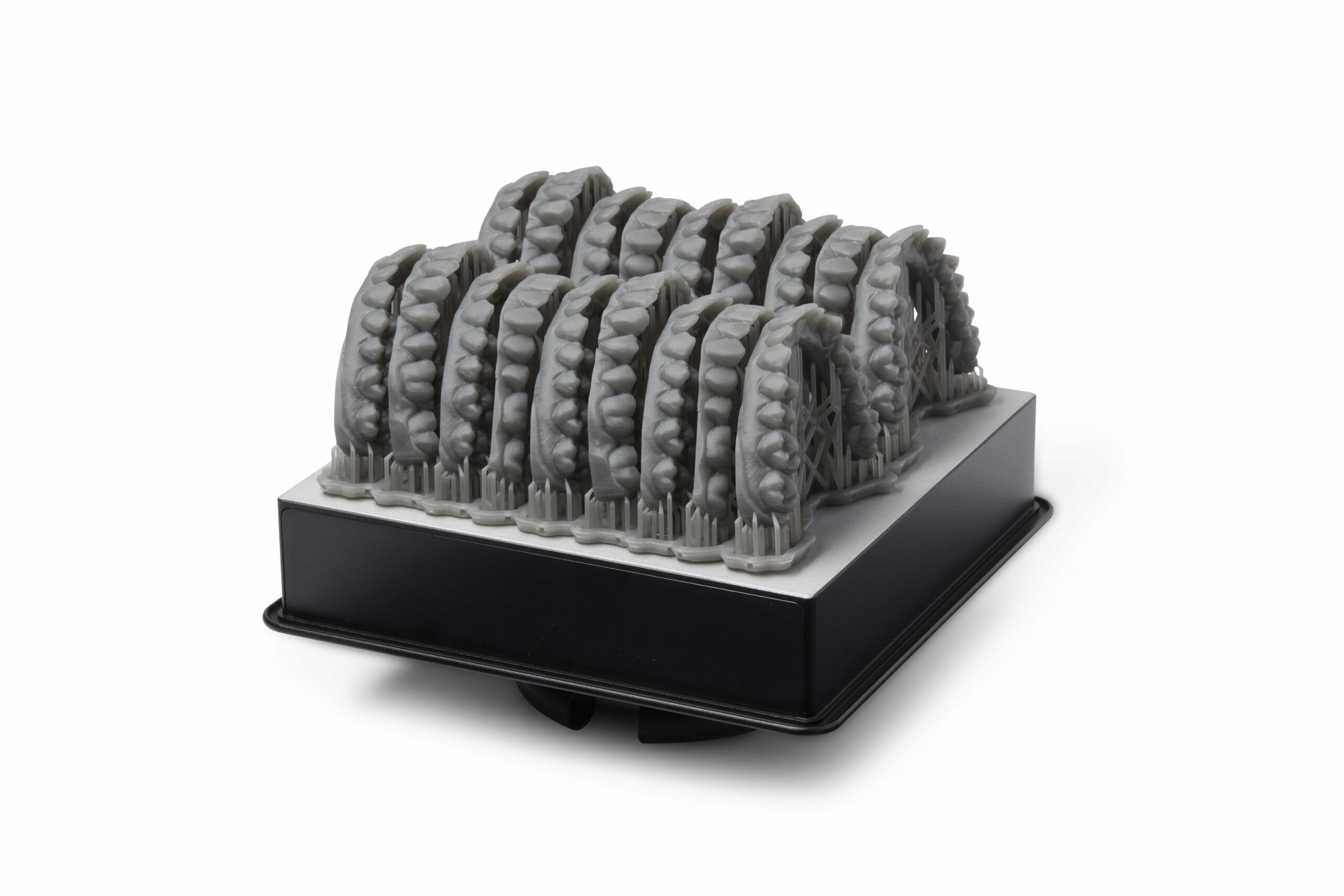 Draft Resin
Draft Resin prints up to four times faster than Formlabs standard high detail materials, making it ideal for initial prototypes and rapid iterations to help bring products to market faster. Parts printed with Draft Resin exhibit a smooth grey finish and high accuracy. Use 200 micron settings for fast print speeds, or use 100 micron settings for models with finer details.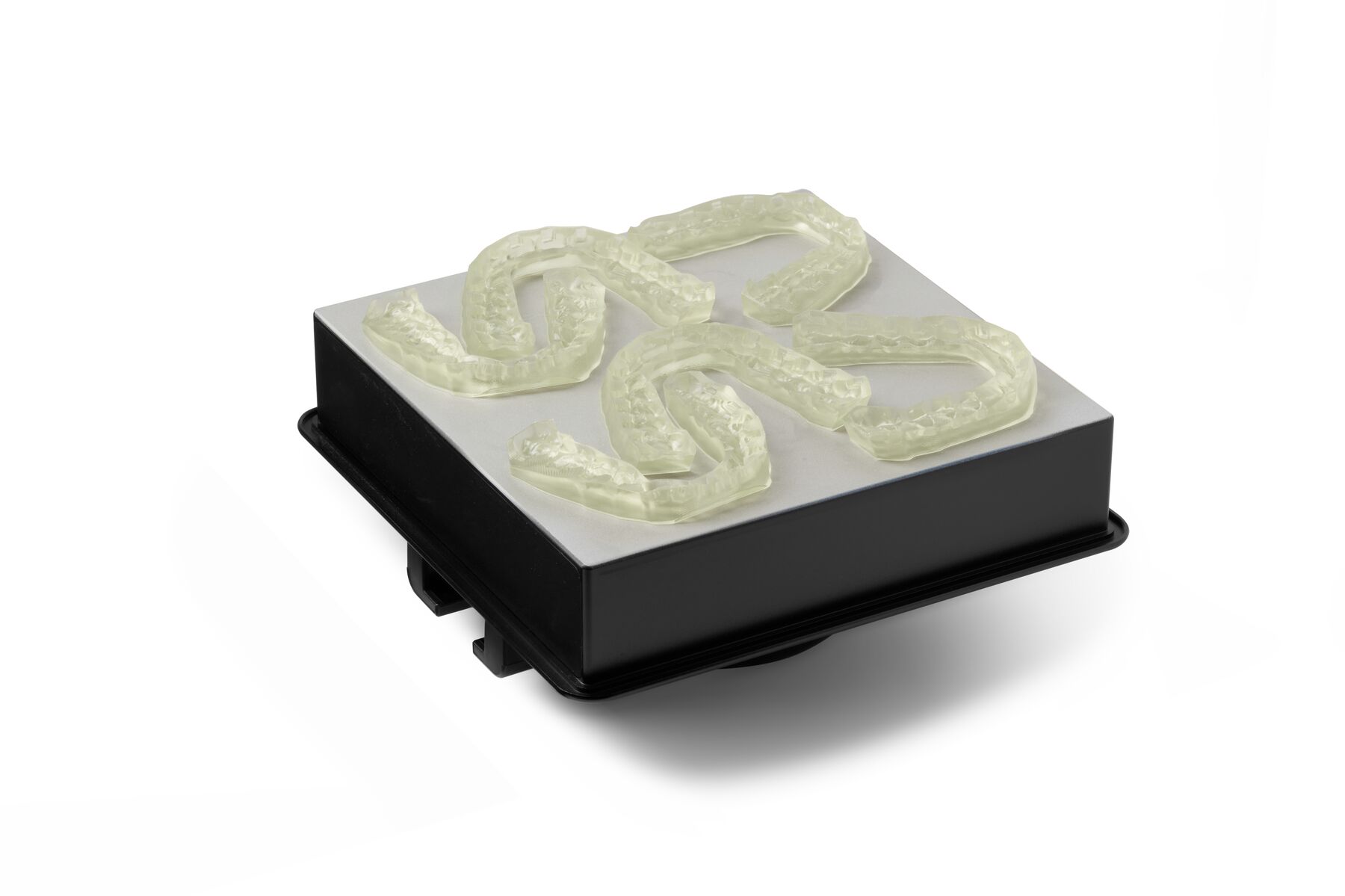 IBT Resin
IBT resin is a flexible, Class I biocompatible material ideal for printing indirect bonding tray for orthodontic bracket placement.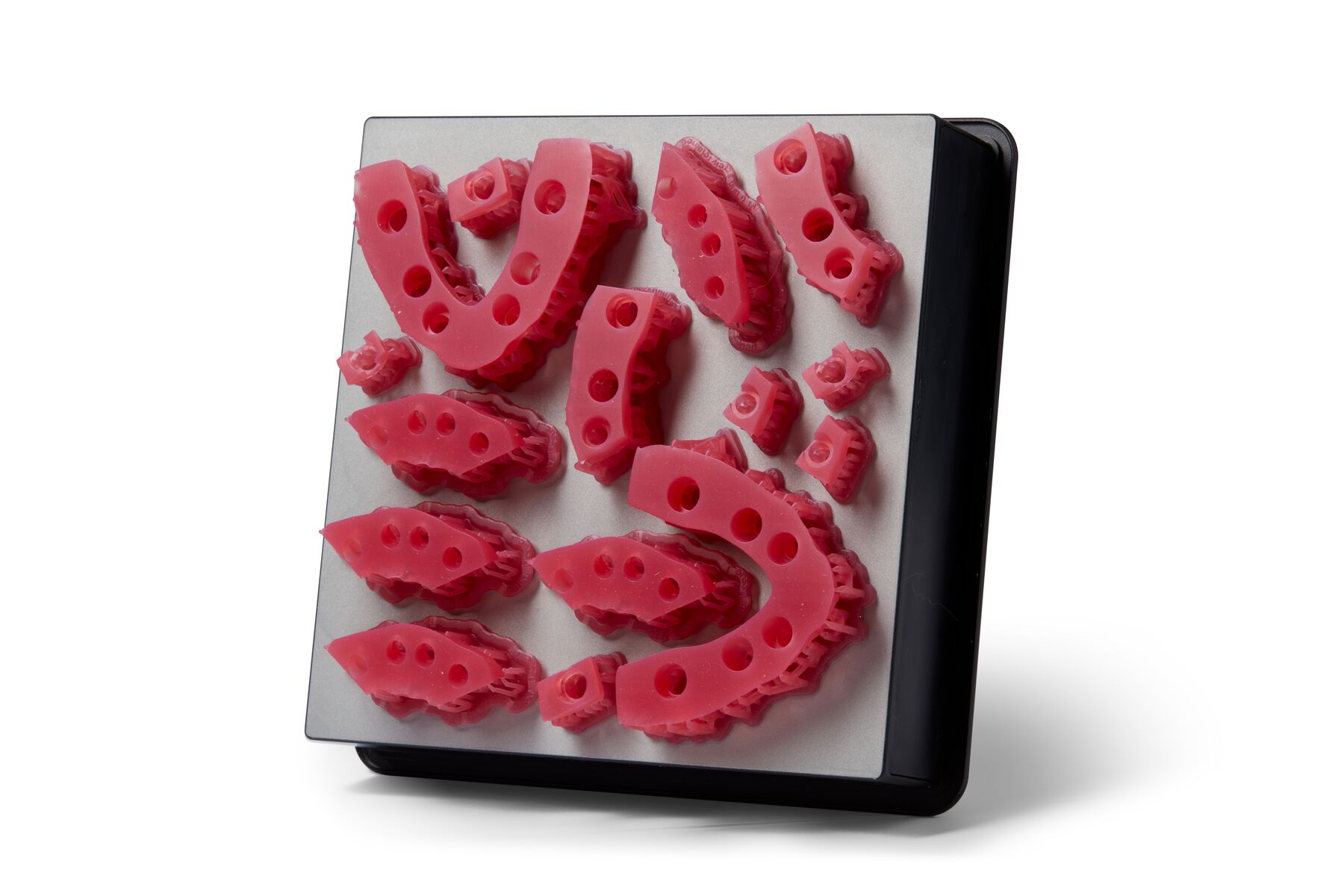 Soft Tissue Starter Pack
Soft Tissue starter pack using Flexible 80A resin and the colour kit to print models which are simulating soft tissue parts for dental implant modelling purposes.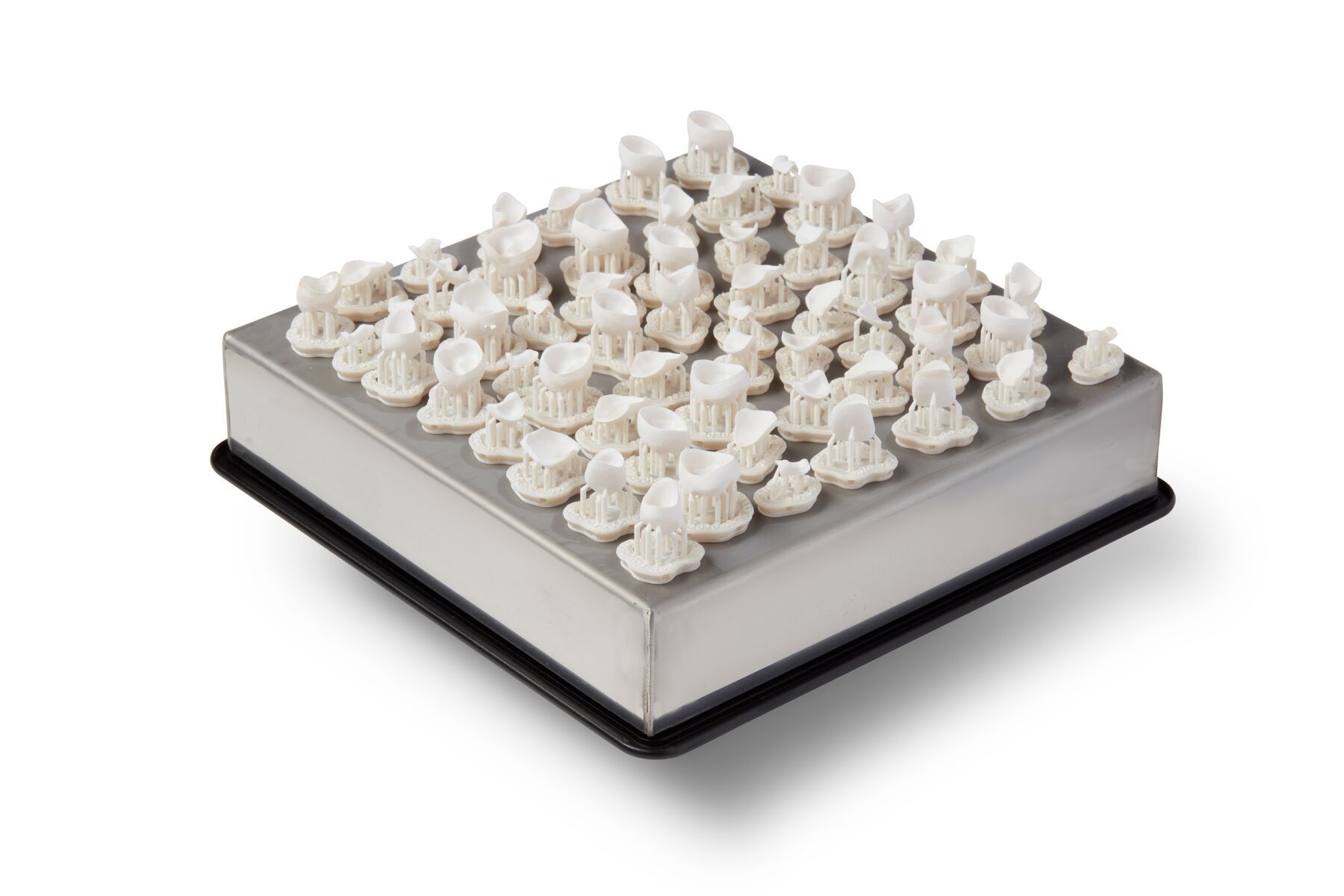 Permanent Crown Resin
A tooth-coloured, ceramic-filled resin for 3D printing permanent single crowns, inlays, onlays, and veneers
Permanent Crown Resin produces high strength, long term restorations with an accurate and precise fit, available in four VITA Classical* shades. Low water absorption and a smooth finish ensure restorations made from Permanent Crown Resin have a low tendency to age, discolour, or accumulate plaque.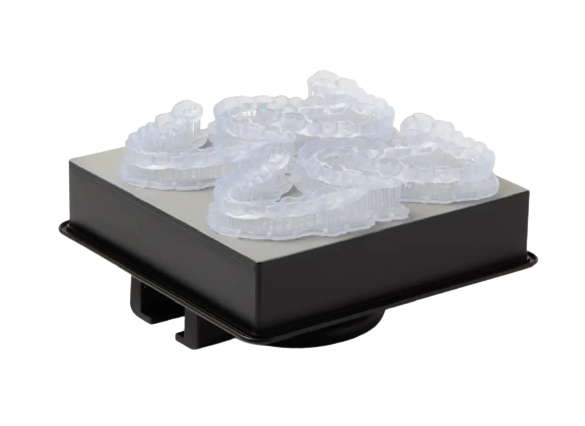 Dental LT Clear Resin
With Dental LT Clear Resin, your practice can print retainers and other demanding orthodontic appliances on-site. Clear at the point of production, this resin can be polished for exceptional results to ensure patient satisfaction. Both biocompatible and affordable, it is the perfect choice for the rapid production of parts that will be worn for lengthy periods – and upgraded over time as the patient's needs evolve.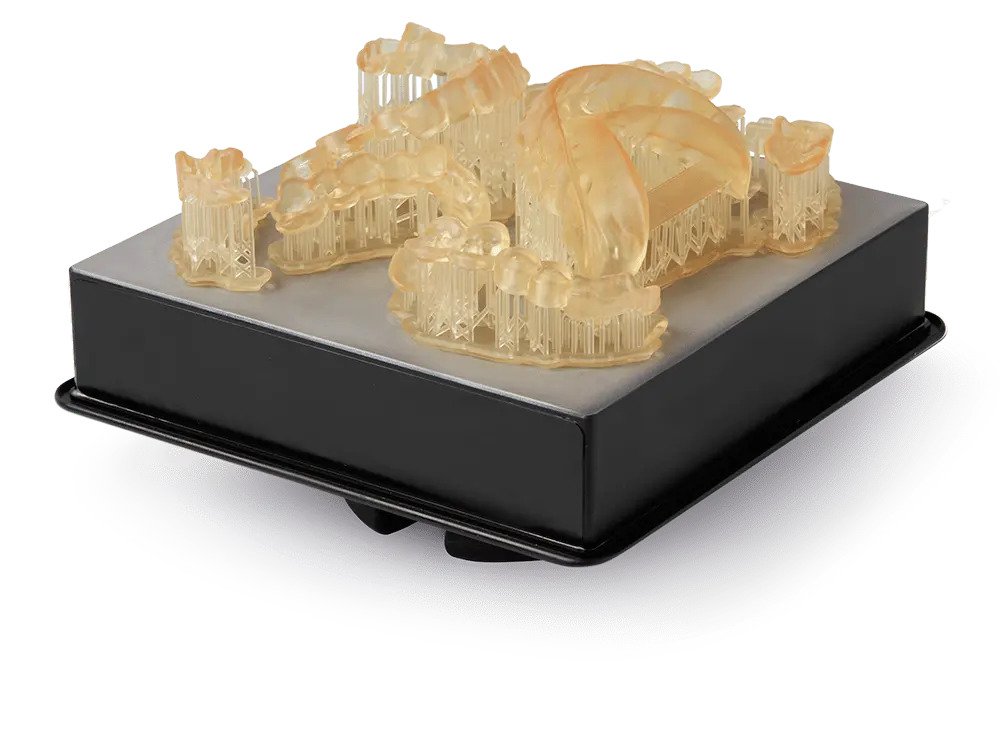 Surgical Guide Resin
Surgical Guide Resin is an autoclavable, biocompatible resin for applications including 3D printing dental surgical guides for implant placement. Use Surgical Guide Resin to 3D print surgical guides, drilling templates, pilot drill guides, and device sizing templates that exceed dental demands in accuracy, part quality, and performance.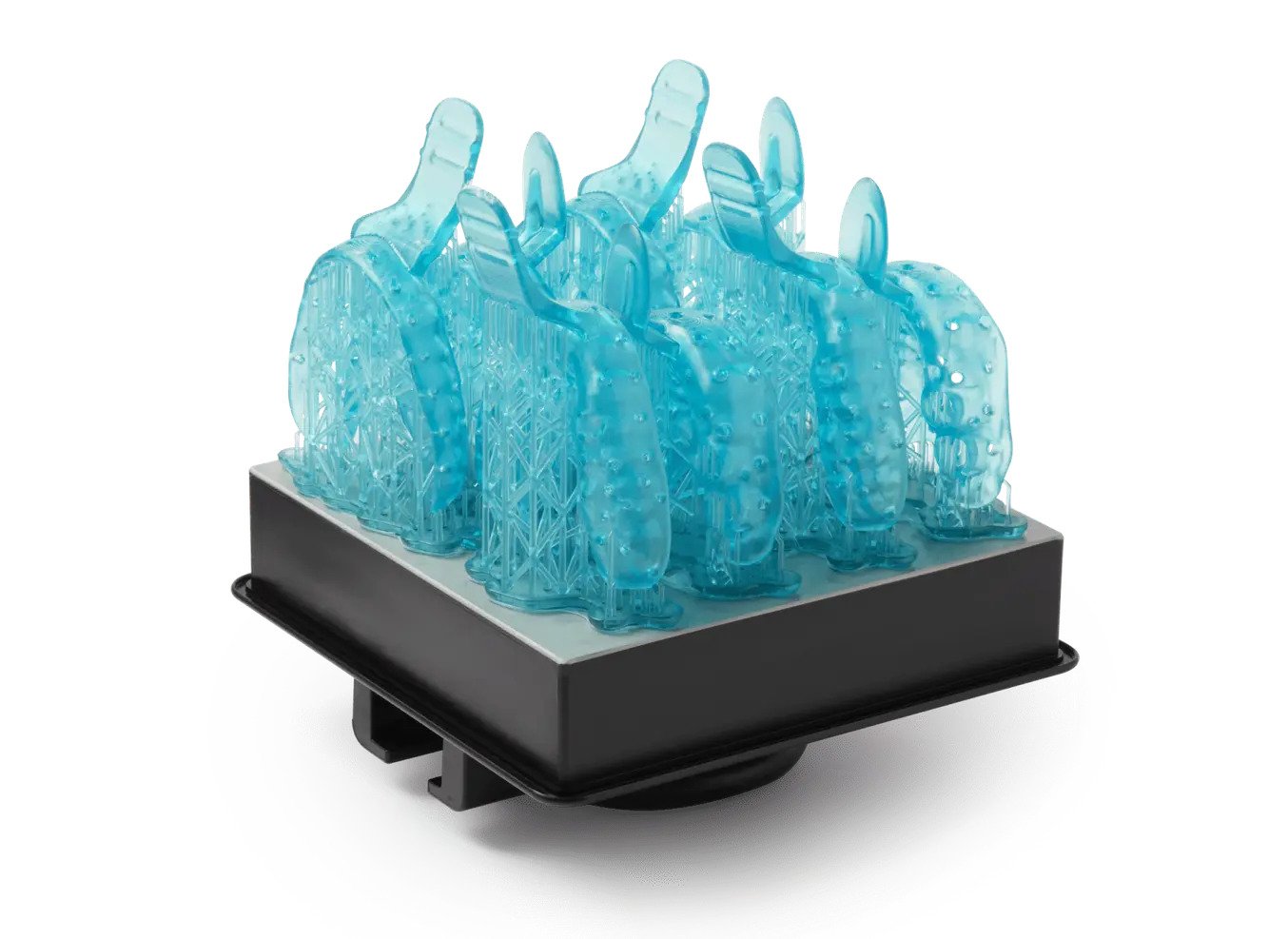 Custom Tray Resin
Custom Tray Resin is a Class I biocompatible, fast printing biocompatible material for digitally manufactured impression trays. Used in conjunction with the custom impression trays these custom tray resin prints can be used for crowns and bridges, implants, dentures, and other comprehensive cases.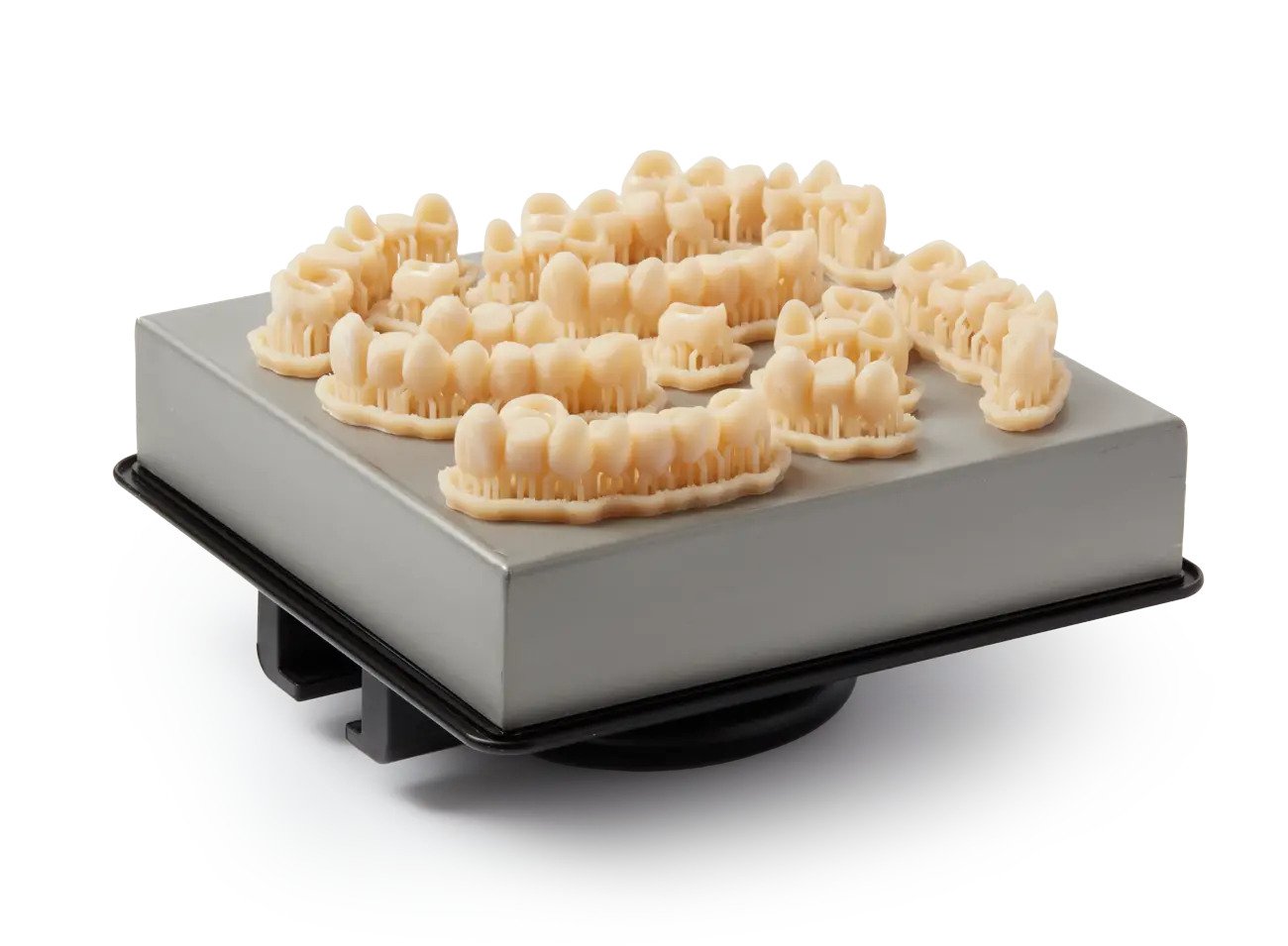 Temporary CB Resin
Temporary CB Resin is a tooth-coloured resin for 3D printing of temporary crown and bridge restorations, inlays, onlays and veneers. Indicated for up to seven-unit bridges and available in four VITA shades, this material provides excellent marginal adaptation, strength, and aesthetics.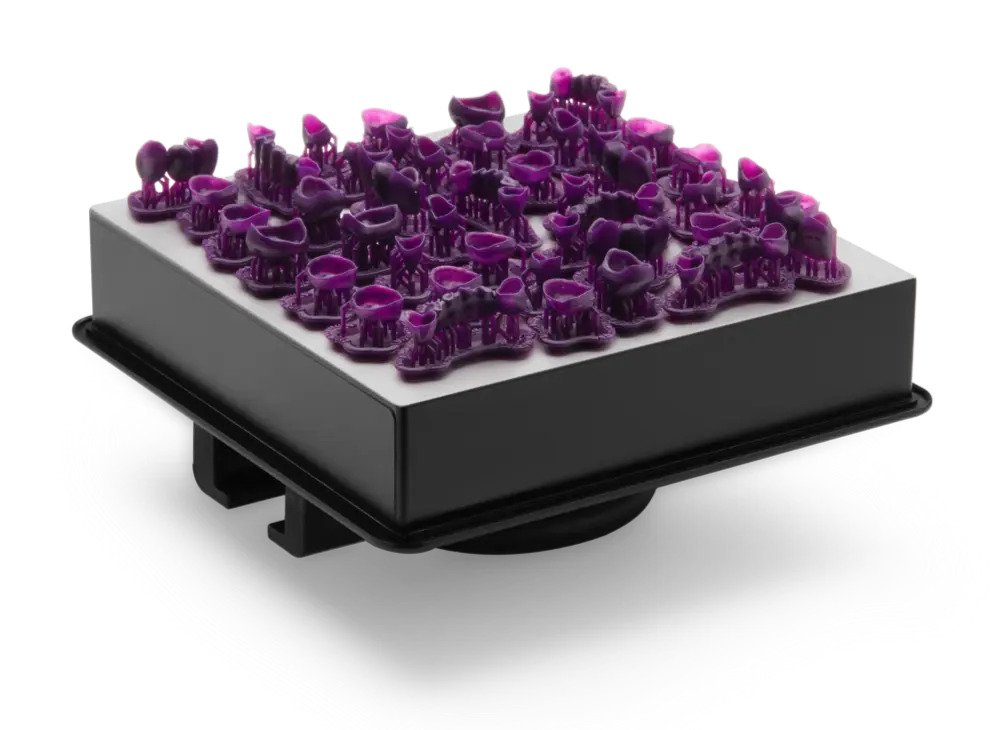 Castable Wax Resin
A highly accurate material for casting and pressing crowns, bridges, and RPDs.
Tested at length by dental technicians, Castable Wax Resin provides accurate, sealed margins and contains 20% wax for reliable casting with clean burnout. Printed patterns are strong enough to handle with no post-cure required, allowing for a faster, simpler workflow.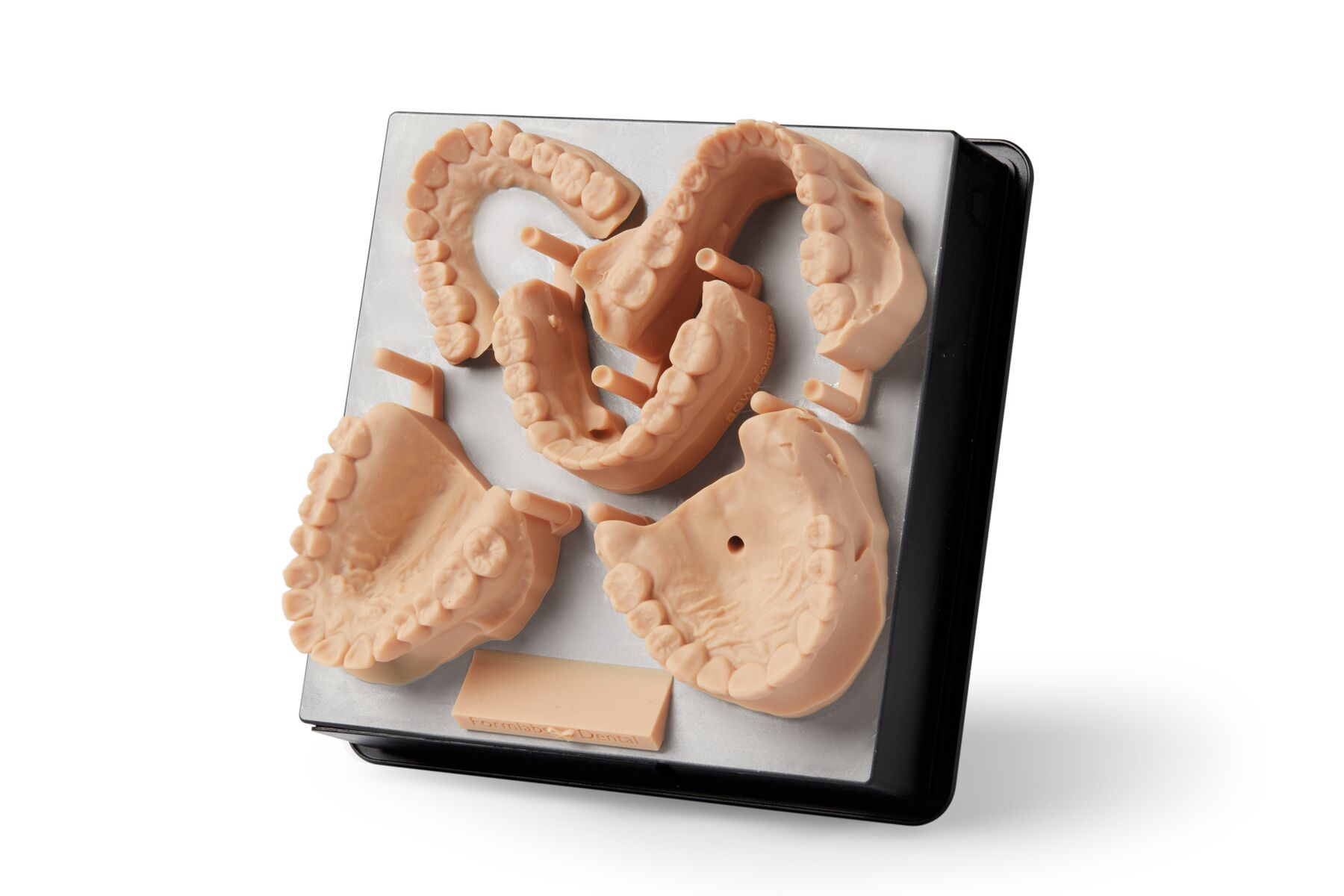 Dental SG Resin
Join the thousands of dental clinicians who trust Formlabs' Dental SG Resin for on-demand production of surgical guides. When fitted with metal tubes, which simply press into place, these guides won't degrade in use, giving dentists the confidence they need to perform ambitious oral operations. Paired with a dedicated resin tank, build platform and finish kit, Dental SG Resin is Class 1 biocompatible, to ensure that your practice remains in compliance with established patient safety standards.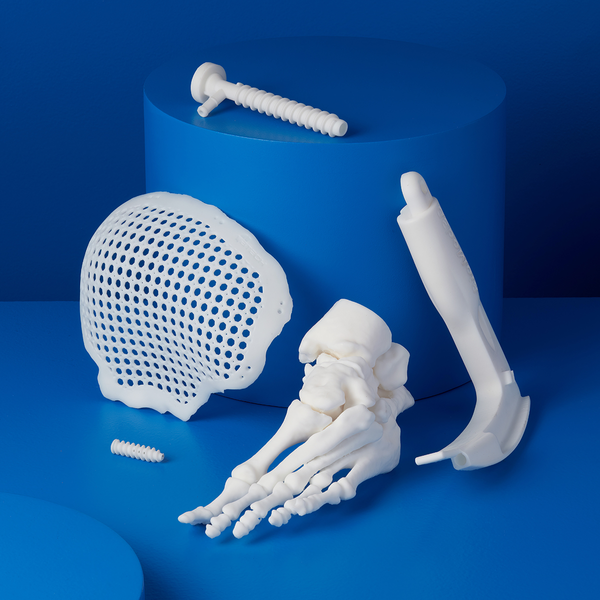 White Resin
Formlabs BioMed White Resin is a brand-new medical-grade rigid material for biocompatible applications which require long term skin or short-term tissue contact.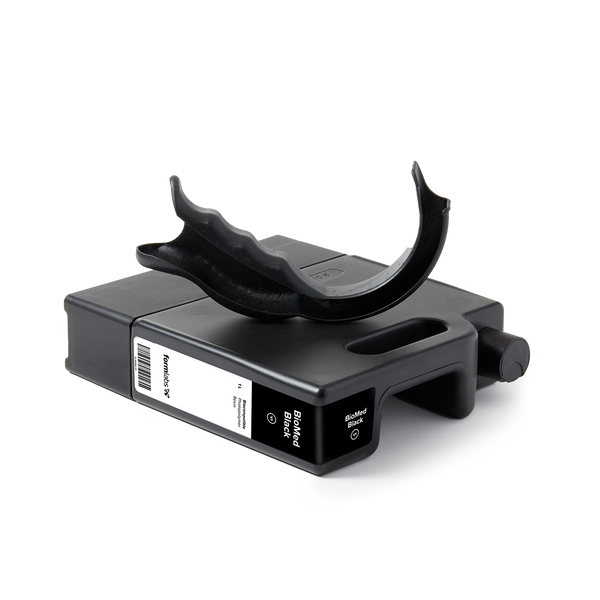 Black Resin
Biomed Black resin just like the BioMed White is an excellent chose for biomedical applications which involve long term skin or short-term mucosal membrane contact and also for pharmaceutical and drug delivery applications.
BioMed Amber Resin for Short-Term Bodily Contact
Consider BioMed Amber Resin for…
Medical device and device components
Surgical planning and implant sizing tools
Research and development
BioMed Clear Resin For Long-Term Bodily Contact
Consider BioMed Clear Resin for…
Medical device and device components
Jigs and fixtures
Surgical planning and implant sizing tools
Research and development